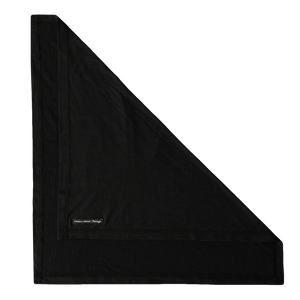 Merino Wool Bandana Scarf Black | Formal Friday X Pelago
Sale price Price €49,00 Regular price €49,00
Tax included.
FORMAL FRIDAY X PELAGO - ULTRAFINE MERINO WOOL BANDANA
This product is a multi-functional bandana made for all movement urban and outdoors. The product is a result of a collaboration between two brands Formal Friday and Pelago Bicycles.
Crafted from a super comfortable ultrafine 16.00 micron merino wool with a nylon core. The material is exceptionally light and breathable still protecting the user from the elements due to its dense structure.
Construction
Ultrafine 16 .00 Micron merino wool fibre blended with nylon and spun into a 1/100 nm yarn. The finer yarn allows the fabric to be knit with a 44gg machine for a dense structure yet to remain extremely light in weight. The combination of the fine gauge machine and blended yarn result in a fabric that is much stronger than expected to its weight of 115g / m2. The utilized wool fibre selection process allows very low fibre variability unlike standard blends. Engineered to perform in all conditions.
Breathability
Merino fibres can absorb large quantities of moisture vapor and then move it away to evaporate into the air.
Comfort
Unique fibre selection process results in only the best and finest wool.
Bacteria & odor resistance
Merino absorbs and locks away the odors from sweat, which are then released during washing.
Composition
75% Ultrafine merino wool, 25% nylon — Weight 115g/m2 — Fibre 16 micron — Yarn 1/100nm — Gauge: 44gg
Washing instructions
Machine wash cold 30°c, Do not bleach, Do not tumble dry.
Size
One size 55cm x 55cm
Designed in Finland. Made in the EU.