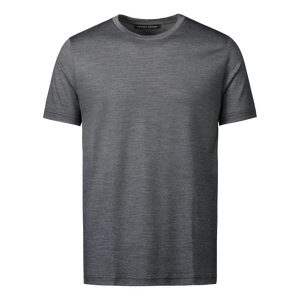 Heavyweight Ultrafine Merino T-Shirt | Shadow
Sale price Price $143.00 Regular price $143.00
Tax included.
100% Ultrafine Merino T-Shirt with Optimized User Experience
Years of product development to bring you the next level merino wool t-shirt today. Clean in design for versatile use, unparalleled durability due to high density spinning technology, incredibly smooth no-itch touch with selective 17.50 micron raw material usage - not to mention all the performance properties listed below. If there is one t-shirt you not only could, but you'd want to wear with anything and everywhere, this would be it.
Instant gratification the moment you put it on. The routines in your active life become suddenly enjoyable. You will save time and gain capacity. The user experience is not only optimized for the user, but also for the planet. The naturally innovative fabric is 100% natural and 100% bio-degradable, completely unharmful for you and your surroundings. Timeless straight shape, relaxed fit and deep color makes it relevant today and next decade. It's an investment, which when taken care of increases in value through the shared memories of your adventures together.
Key benefits include: 
High density spinning. FORMAL FRIDAY® manufacturing process ensures atypical strength to comfort ratio. Ultrafine fibre is spun into a 1/038NM yarn with latest textile engineering technology for a anti-pill surface.
Thermal control. In contrast to synthetics, merino wool is an active fibre that reacts to changes in the body temperature helping you stay warm in cold climate, and cool in hot weather.
Soft touch. Ultrafine 17.50 micron fibre is extremely fine, enabling it to bend far more than coarser wool. This property makes the ultrafine merino wool t-shirt feel soft and luxuriously gentle next to your skin.
Moisture wicking. Merino absorbs water molecules and pulls moisture away from the skin, into the merino fiber itself, it can evaporate from there without the fabric feeling wet or clammy.
Quick dry. Ultrafine merino wool fabric dries almost as quickly as quick-dry synthetics and a lot quicker than cotton. After a sweaty activity or washing, the product is ready to be used in no time.
Anti-bacterial. Due to the complex structure of merino it is naturally anti-bacterial and anti-microbial. The fabric inhibits the growth of micro organisms making the t-shirt odor resistant, which means far less washing.
Low impact. FORMAL FRIDAY® t-shirt is 100% natural and 100% biodegradable. Our production process involves minimal use of strong chemicals, such as chlorine, making it safe for the user and the planet.
Easy care. At microscopic level, each ultrafine wool fibre is like a coiled spring that returns to its natural shape after being bent. This gives the garment a natural resistance to wrinkles, and saves you time from ironing.
Travel friendly. Merino has a natural protective layer that helps prevent stains from being absorbed. That in addition to anti-bacterial properties makes it perfect for minimalist life and travel.
Breathable. Merino wool is one of the most breathable fibres in the world. Ultrafine merino fibres absorb large quantities of moisture vapour then move it away to evaporate into the air. 
Raw material specifications:
100% Ultrafine Merino Wool
Fineness description WV Super 120's
Average microns WV 17.50μm
Weight specifications:
Weight 195g/m2
Yarn count 1/038Nm
Mechanical features:
UNI EN ISO 12947-2 Abrasion resistance (9kPa) 25,000
UNI EN ISO 12945-1 Pilling box (14,000 rev.) 4/5
UNI EN ISO 13938-2 Bursting strength 142 KPa
Sizing
Product size table in centimetres measured flat on a table. Compare these measurements to a t-shirt you already have to define your correct size.
Depending on the washing program, the product might shrink up to one full size during the first wash. Shrinking is normal phenomenom for 100% merino wool products. We have decided to use minimal amount of resins and strong chemicals such as chlorine which change the physical and chemical structure of the wool fibre. These processes, while eliminating part of the shrinking, are not only hazardous for the environment and for the user, but also makes the product weaker. With this production related decision, we can offer you as natural and safe product as possible.
In case you are between sizes, we recommend sizing up. Refer to care instructions attached in the garment before first wash.
| | | | | | | | |
| --- | --- | --- | --- | --- | --- | --- | --- |
|   | XXS | XS | S | M | L | XL | XXL |
| a. BODY LENGTH | 65,5 | 67,5 | 69,5 | 71,5 | 73,5 | 75,5 | 77,5 |
| b. HALF CHEST  | 45,5 | 47,5 | 49,5 | 51,5 | 53,5 | 55,5 | 57,5 |
| c. HALF WAIST | 45,5 | 47,5 | 49,5 | 51,5 | 53,5 | 55,5 | 57,5 |
| d. SLEEVE LENGTH | 20,5 | 21 | 21,5 | 22 | 22,5 | 23 | 23,5 |
| e. HALF CUFF OPENING | 14,2 | 14,8 | 15,5 | 16 | 16,6 | 17,2 | 17,8 |
| f. SHOULDER TO SHOULDER | 42 | 43 | 44 | 45 | 46 | 47 | 48 |
Model is 188cm / 75kg and is wearing size L.
DESIGNED IN FINLAND
FABRIC MANUFACTURED IN ITALY
MADE IN THE EU
DEVELOPED BY FORMAL FRIDAY Ltd.